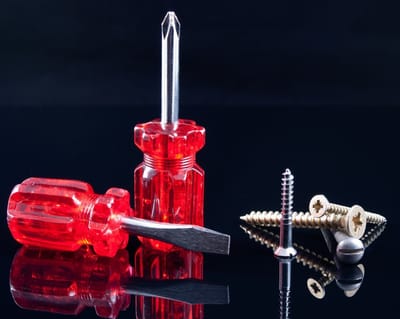 Where necessary use a spirit level or follow the line (or grout line) of the surface product is being attached to.
Mark the position of the first hole.
We then suggest drilling a 3mm diameter pilot hole.
NOTE to take care when drilling, for example, on the inside surface of a cabinet door to not drill too deep and drill through to the front surface.
Have ready the correct sized screwdriver.
Fix this first screw in place and position the product in place against it.
Then mark position of second hole.
Repeat pilot hole process as in point 3.
To finish, screw in the 10mm diameter chrome plated cover.
When using the plastic rawl plugs supplied, drill a pilot hole with 6mm diameter.
DANMARK - Installation
Brug om nødvendigt et spritniveau, eller følg linjen (eller fugemuren) på overfladeproduktet, der er fastgjort til.
Marker placeringen af det første hul.
Vi foreslår derefter at bore et pilothul med en diameter på 3 mm.
Vær opmærksom på at være forsigtig, når du f.eks. Borer på indersiden af en skabsdør for ikke at bore for dybt og bore igennem til fronten.
Har klar den rigtige skruetrækker.
Fastgør denne første skrue på plads, og placer produktet på plads mod den.
Marker derefter positionen for det andet hul.
Gentag pilothulsprocessen som i punkt 3.
For at afslutte, skrues det forkromede låg på 10 mm i diameter.
Når du bruger de medfølgende plastikpropper, bor du et pilothul med 6 mm diameter.
DEUTSCHLAND - Installation
Verwenden Sie bei Bedarf eine Wasserwaage oder folgen Sie der Linie (oder Fugenlinie) des Oberflächenprodukts, an dem es befestigt ist.
Markieren Sie die Position des ersten Lochs.
Wir empfehlen dann, ein Pilotloch mit 3 mm Durchmesser zu bohren.
Beachten Sie beim Bohren beispielsweise auf der Innenseite einer Schranktür, dass Sie nicht zu tief bohren und bis zur Vorderseite durchbohren.
Halten Sie den richtigen Schraubendreher bereit.
Befestigen Sie diese erste Schraube und positionieren Sie das Produkt dagegen.
Markieren Sie dann die Position des zweiten Lochs.
Wiederholen Sie den Pilotlochvorgang wie in Punkt 3.
Zum Schluss die verchromte Abdeckung mit 10 mm Durchmesser einschrauben.
Bohren Sie bei Verwendung der mitgelieferten Kunststoff-Rohstopfen ein Pilotloch mit 6 mm Durchmesser.
ESPAÑA - Instalación
Cuando sea necesario, use un nivel de burbuja o siga la línea (o línea de lechada) del producto de superficie al que se está uniendo.
Marque la posición del primer hoyo.
Luego sugerimos perforar un agujero piloto de 3 mm de diámetro.
Tenga en cuenta que al perforar, por ejemplo, en la superficie interior de la puerta de un armario, no taladre demasiado profundo y perfore hasta la superficie frontal.
Tenga listo el destornillador del tamaño correcto.
Fije este primer tornillo en su lugar y coloque el producto en su lugar contra él.
Luego marque la posición del segundo hoyo.
Repita el proceso del agujero piloto como en el punto 3.
Para terminar, atornille la cubierta cromada de 10 mm de diámetro.
Cuando utilice los tapones de plástico rawl suministrados, taladre un agujero piloto con un diámetro de 6 mm.
FRANCE - Installation
Si nécessaire, utilisez un niveau à bulle ou suivez la ligne (ou la ligne de coulis) du produit de surface auquel vous êtes attaché.
Marquez la position du premier trou.
Nous suggérons ensuite de percer un trou pilote de 3 mm de diamètre.
Lors du perçage, par exemple sur la surface intérieure d'une porte d'armoire, veillez à ne pas percer trop profondément et percer jusqu'à la surface avant.
Préparez le tournevis de bonne taille.
Fixez cette première vis en place et positionnez le produit contre lui.
Marquez ensuite la position du deuxième trou.
Répétez le processus du trou pilote comme au point 3.
Pour finir, vissez le couvercle chromé de 10 mm de diamètre.
Lorsque vous utilisez les bouchons en plastique fournis, percez un trou pilote de 6 mm de diamètre.


ITALIA - Installazione
Se necessario, utilizzare una livella a bolla d'aria o seguire la linea (o la linea di malta liquida) del prodotto di superficie su cui si sta attaccando.
Segna la posizione del primo foro.
Suggeriamo quindi di praticare un foro pilota di 3 mm di diametro.
Prestare attenzione durante la perforazione, ad esempio, sulla superficie interna di una porta dell'armadio per non perforare troppo in profondità e perforare fino alla superficie anteriore.
Preparare il cacciavite della dimensione corretta.
Fissare questa prima vite in posizione e posizionare il prodotto in posizione contro di essa.
Quindi segnare la posizione del secondo foro.
Ripetere la procedura del foro pilota come al punto 3.
Per finire, avvitare il coperchio cromato diametro 10mm.
Quando si utilizzano i tappi in plastica forniti, praticare un foro pilota con un diametro di 6 mm.
NIHON - 取り付け
必要に応じて水準器を使用するか、製品が取り付けられている表面のライン(またはグラウトライン)に従ってください。
最初の穴の位置をマークします。
次に、直径3mmのパイロット穴をあけることをお勧めします。
たとえば、キャビネットドアの内面に穴を開ける場合は、穴を開けすぎず、前面まで穴を開けないように注意してください。
正しいサイズのドライバーを用意してください。
この最初のねじを所定の位置に固定し、製品をそれに対して所定の位置に配置します。
次に、2番目の穴の位置をマークします。
ポイント3と同様にパイロット穴プロセスを繰り返します。
仕上げには、直径10mmのクロムメッキカバーをねじ込みます。
付属のプラスチック製のロールプラグを使用する場合は、直径6mmの下穴を開けます。
NEDERLAND - Installatie
Gebruik indien nodig een waterpas of volg de lijn (of voeglijn) van het oppervlakproduct waaraan wordt bevestigd.
Markeer de positie van het eerste gat.
We raden dan aan om een geleidegat met een diameter van 3 mm te boren.
Let op dat u bij het boren, bijvoorbeeld aan de binnenkant van een kastdeur, voorzichtig moet zijn om niet te diep te boren en door te boren naar de voorkant.
Houd de juiste schroevendraaier bij de hand.
Bevestig deze eerste schroef op zijn plaats en plaats het product ertegen.
Markeer vervolgens de positie van het tweede gat.
Herhaal het proefgatproces zoals in punt 3.
Schroef tot slot de verchroomde kap met een diameter van 10 mm vast.
Boor bij gebruik van de meegeleverde plastic pluggen een geleidegat met een diameter van 6 mm.
POLSKA - Instalacja
W razie potrzeby użyj poziomicy lub postępuj zgodnie z linią (lub linią zaprawy) produktu powierzchniowego, do którego jest przymocowany.
Zaznacz pozycję pierwszego dołka.
Następnie sugerujemy wywiercić otwór pilotujący o średnicy 3 mm.
Pamiętaj, aby zachować ostrożność podczas wiercenia, na przykład na wewnętrznej powierzchni drzwi szafy, aby nie wiercić zbyt głęboko i wiercić na przedniej powierzchni.
Przygotuj śrubokręt odpowiedniej wielkości.
Przykręć pierwszą śrubę i umieść produkt na miejscu.
Następnie zaznacz pozycję drugiego otworu.
Powtórz proces pilotowania otworu jak w punkcie 3.
Aby zakończyć, wkręć chromowaną pokrywę o średnicy 10 mm.
Używając dostarczonych plastikowych kołków rozporowych, wywierć otwór pilotujący o średnicy 6 mm.
PORTUGAL - Instalação
Sempre que necessário, use um nível de bolha de ar ou siga a linha (ou linha de rejunte) do produto de superfície que está sendo anexado.
Marque a posição do primeiro furo.
Sugerimos então fazer um furo piloto de 3 mm de diâmetro.
Tenha cuidado ao perfurar, por exemplo, na superfície interna de uma porta do gabinete para não perfurar muito fundo e perfurar a superfície frontal.
Prepare a chave de fenda de tamanho correto.
Fixe este primeiro parafuso no lugar e posicione o produto no lugar contra ele.
Em seguida, marque a posição do segundo furo.
Repita o processo do furo piloto como no ponto 3.
Para finalizar, enrosque a tampa cromada de 10 mm de diâmetro.
Ao usar os bujões de plástico fornecidos, faça um orifício piloto com 6 mm de diâmetro.
SVERIGE - Installation
Använd vid behov en spritnivå eller följ linjen (eller injekteringslinjen) på ytprodukten som är fäst vid.
Markera positionen för det första hålet.
Vi föreslår då att man borrar ett pilothål med 3 mm diameter.
Observera att du bör vara försiktig när du borrar, till exempel på insidan av en skåpsdörr, så att du inte borrar för djupt och borrar genom till framytan.
Ha redo på rätt skruvmejsel.
Fäst den första skruven på plats och placera produkten på plats mot den.
Markera sedan positionen för det andra hålet.
Upprepa pilothålsprocessen som i punkt 3.
För att avsluta, skruva in det förkromade locket på 10 mm.
Borra ett pilothål med 6 mm diameter när du använder de medföljande plastpropparna.